If it hasn't already, my blog name is about to come together for you. This my friends, is a tour of my practical yet spoiled home office!
When it came to my office, it was important to create both a functional and inspirational place. (This also held true for the closet!) With a mix of high (Spoiled) and low (Practical), my office strikes a balance that feels chic, yet comfortable. The Spoiled part, is clearly my handbags (some call it a problem, I call it a collection.) The Practical part, is just about everything else!
The office tour begins with a DIY focal point, a handbag and shoe display! Sitting against Benjamin Moore Excalibur Gray walls, this Ikea hack uses different depths, widths, and heights of Billy bookcases (NOTE: I'm sad to report that Ikea USA no longer makes the 15″ depth Billy.) I added beautiful mercury glass pulls to the doors and painted styrofoam crown molding for a custom look. (Yes, that's styrofoam! It allowed me to get the project done quickly, cheaply, and easily! Great stuff!)
Of course every office needs a desk. This sleek West Elm Parson's Desk (that I got for more than half off) is paired with the prettiest quilted and studded statement chair (no longer available from Overstock.) The mirrored tray was a $6.98 Target clearance find and the white mirrored storage box was a $4 HomeGoods clearance find.
To the right of my desk is an appropriately themed gallery wall complete with Oliver Gal 'Birkin' artwork (HomeGoods $39.99!), DIY inspired artwork, ornate frames that I sprayed white, and of course, more bags. My beloved Chanel Vintage Single Flap and Louis Vuitton Phenix PM sit upon two inexpensive floating shelves.
Topping the low Billy bookcases are $32 you-wouldn't-know-they're-faux marble countertops. (Tutorial coming very soon!) Resting on the glamorous faux marble is my Nicole Miller glass jewelry box (HomeGoods, $24.99), my perfumes de jour, and a gifted Tiffany & Co. trinket box. Hanging above is a beautiful mirror that I paid $35 for at Home Depot and have had for-like-ever. It's timeless!
I framed the large double window with flowy JCPenney faux silk curtains that dramatically puddle on the floor. I too dramatically puddled on the floor when I scored them during a buy one get one for a penny sale, used a coupon on top, and got 10% cash back from Ebates! They're cinched by sparkly mercury glass holdbacks that I found at Christmas Tree Shops for just $5.99. Sitting to the side is a simple, yet sparkly, DIY chandelier floor lamp. (Another tutorial coming soon!)
To anchor the space, I added an $81 Safavieh gray and ivory shag rug and tucked a charcoal tufted storage ottoman in front of my desk. The ottoman not only looks great, but is super cute and roomy on the inside! It provides a good amount of storage and most importantly, a chic place to sit.
Some finishing touches include glass apothecary jars filled with nail polish…
Books and boxes propping up bags and shoes…
And of course, some fresh pink Costco tulips. (They have the cheapest, best florals!)
A bit of Chanel, a whole lot of Ikea, a touch of Vuitton, and a pinch of JCPenney. It's all about the balance of practical and spoiled in life, and my office is a prime example of that.
I hope you enjoyed the tour!
This post is not sponsored, all opinions and instructions are my own. Please DIY at your own risk. This post contains affiliate links.
This post was featured on: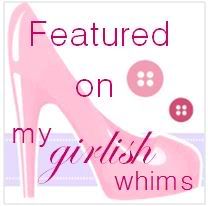 And this post partied over at these great link-ups:
The Pin Junkie • Pretty Pintastic Party • Pin Me Link Party • Freedom Fridays • Creative Collection • Weekend Wind Down • Be Inspired Link Party • Dare to Share • Link Party Palooza • Share It One More Time • DIY Sunday Showcase • Small Victories Sunday • Inspiration Monday • Inspire Me Monday • Project Inspired • The Creative Corner Link Up • Anything Goes~You're Gonna Love It • Lou Lou Girls Fabulous Party • Dream Create Inspire • Share Your Projects/DIY Dreamer • Create Link Inspire • Totally Terrific Tuesday • Whimsy Wednesdays • Wow Me Wednesday • Your Whims Wednesday • Work it Wednesday •